About Rob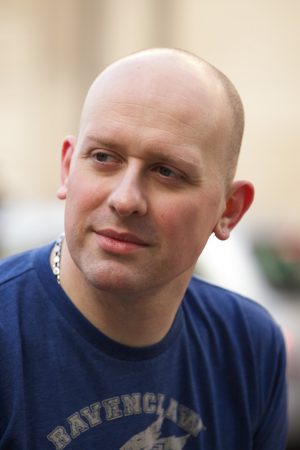 Rob was born in Coventry in the very early hours of a Thursday morning and has recently woken up to find himself officially on the wrong side of 40. Quite where the intervening years went he couldn't say, but they ran off with his hair and waistline so he asks that if anyone sees them, perhaps they'd be good enough to let him know.
After many years of thinking it'd be quite nice to somehow get asked to write things and occasionally get paid for it too, it's finally started to happen with audio dramas being commissioned for Big Finish Productions and What Noise Productions, and several contributions made to 1001 TV Series You Must Watch Before You Die.
He occasionally contributes articles on a few subjects to various websites, most regularly for We Are Cult.
Rob is also an occasional DJ, with audiences having had his musical taste inflicted on them in London, Oxfordshire and – bafflingly – LA.
Interests
Rob's primary interests lie in popular culture, especially television and pop music. For starters he is far too obsessed with Doctor Who and Dark Shadows for it to be good for him.
Musically Rob's tastes can mainly be described as "camp", with his favourite artists including The Human League, Kylie, Dragonette, Pet Shop Boys, ABBA and Girls Aloud, as well as almost anything that got produced within the hallowed walls of the Hit Factory. This is, however, tempered with more challenging material from the likes of Garbage, Ladytron, Client, the Readers Wifes, and the Divine Comedy.
If he's totally honest, however, he's still happiest when singing along to "Kinky Boots" or "Windmill in Old Amsterdam".
Rob's favourite comedian is Eddie Izzard (with Rita Rudner as a close second) and his favourite author is Christopher Rice (with Bill Bryson and Terry Pratchett as creditable runners up).
If asked (which he never is) Rob will also happily state that his favourite films are (in no particular order):
He also has a worrying tendency to write about himself in the third person which probably means some kind of clinical assessment is required.